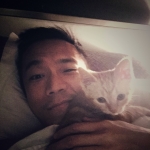 3.5
pohanwu
Hi there, I've been playing
tennis casually – learning
through playing and watching
matches – for 7 or 8 years
since my early 30's. As much
as it is just a hobby, I play
with full enthusiasms. Matches
preferred to rallies although
I appreciate the
competitiveness and the mind
& body workout more so
than the scores. As a
self-employed, my schedule can
be quite flexible, and I am
happy to hit some balls as
long as it's not raining.
Hit me up!