3.5
DJTO
Level 3.5 here, have been
playing for years, and play
semi-regularly. Fit and
athletic looking to rally or
play matches in either single
or doubles. Don't take it too
seriously and looking for fun.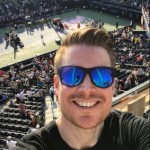 4
NilsTO
Hi everyone! I have been
playing a lot as a kid &
teenager, just got back into
it this summer 2023. I am
looking to play on real hard
courts like Cedarvale,
Dovercourt Park, Winston
Churchill & Rosedale Park
(public hours), Moss Park, or
Glendon. The public asphalt
cement courts are really hard
on the body & equipment I
find. I love a good hitting
session. Later down the road I
would be up for sets but right
now more looking for rallies.
I am looking to join a club
(on many waitlists now). In
2024 I would also be up for
joining a league or playing
tournaments. If you can also
play during the day on
weekdays it would be even
better! Look forward to
playing soon! :)
4
petertea96
I prefer doing drills rather
than the typical mid
baseline-to-baseline rallies.
I'd like to deliberately train
cross-court rallies (backhand
+ forehand), approach shots,
passing shots, volleys and
overheads.