 3
Hassan
Looking to have some
consistent tennis runs this
summer with players from in
and around the Maple-Vaughan
area. I'm good with both
singles as well as doubles.
Looking to improve my game by
playing more regularly. I'm
open to rallying as well as
matches. Hit me up if
interested! 4
Mani1976
Looking to play rallies and
matches in Richmond Hill,
Thornhill and Vaughan areas.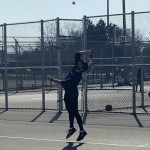 5
marke
I'm a 5.0 player looking for
rally partners, happy to play
competitive sets or just hit,
it's all fun for me. Based in
North York but willing to
travel. Text me for quicker
responses, thanks!
647-688-1347