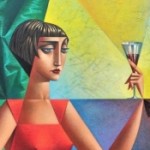 2
moof
Looking to play up to 4 times
a month as soon as it's
consistently warm (15+
celsius), evenings (after
5)/weekends, with someone
willing to practice and learn
with me! I've taken lessons
through the city for a couple
of summers and love to play
but have never played
consistently. I'm probably
a 2.0 or so according to
Tennis Canada, hoping to find
someone at my level or
slightly better so I can get
practice and improve (and to
not frustrate you if you're a
lot better...) :)
Eglinton flats preferred,
but willing to split our
sessions at your preferred
court if it's easily
accessible through transit and
not too far.