 3.5
VictoryRock
I've been playing since I was
a kid, but out of practice
after taking a seven-year
break. As I kid I took regular
lessons, tennis camp (Dimmer
Clinic) and played as a sub on
the school tennis team. As an
adult I've played
recreationally only. I've been
playing regular games this
summer ('23) for the first
time in years. Happy to be
playing again, and hoping to
improve with practice. I
work contract, and long hours
when on - so flexibility all
about work. I can do weekday
nights and weekends when
working, open schedule when
not. Wide open right now due
to film strike. I'm
currently #967 on the Mimico
Tennis Club waiting
list. (Swansea & High
Park closer but full).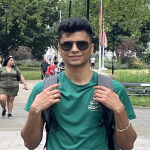 3
arpit2297
Hey there! I am a big tennis
fan and my favorite player is
Novak. If only I could play
half as well as he does!
:P I am a pretty active
player on the court and have
been playing on and off for 2
years. My forehand and slice
are pretty good, but my back
hand, net game and serve could
use some work. I signed up for
my love and passion for tennis
combined with a desire to meet
more like-minded and cool
people. Feel free to connect
with me here or by email. I
live close to Queen &
Spadina (15 minutes from
Trinity Bellwoods Park).I'm
free most evenings after work
and on weekends. Cheers!