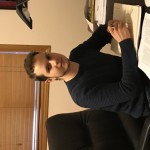 3
angelo32
I used to play tennis when I
was younger, and I'm trying to
get back into it. I live in
the Woodbridge area, so there
are plenty of courts I'd be
willing to play at! I've only
ever played for fun, so I'm no
expert, but I'm certainly
looking to up my skills.