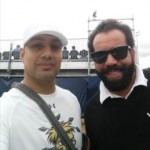 3
JokerPoker
Hey there. I am a 3.0 level
player who loves to rally or
play sets/games. I have been
playing for about 10 years on
and off, and consider myself
to be quite competitive.
Looking for either singles or
doubles sessions, where I can
improve my game, have fun and
work up a good sweat. I can
travel anywhere in the GTA,
within reason, so if you know
a local court that is in good
condition, please feel free to
drop me a message. I prefer
evenings, so courts with
lights would be optimal. 2.5
TopSpin
Non competitive preference.
Would love to play more often
during the week, mornings are
ideal. Beginners are welcome.
Singles or doubles are ok.
Male or female. Just want to
play mostly for fun and keep
in shape. Prefer to stay in
Vaughan-YorkRegion-Etobicoke-N
orthYork-RichmondHill-Thornhil
l