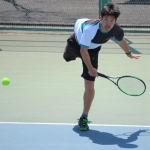 5
Ryo
I came to Toronto in April
2021 for work. I had played
tennis over 20 years in Japan.
I would like to continue to
play tennis in Toronto. So, I
am looking for a place and
partners to play tennis in
Toronto as well. Especially, I
want to play singles or mix
doubles games. (My partner's
level is around
3.5-4.0) Looking for places
and players around North York
area. I often leave from
Toronto, and I am available on
only weekends if I am in
Toronto. I am not used to
English yet, but I will do my
best to communicate with
English. If that's OK, I
would appreciate it if you
could send me a message. It
is also good for me if you
tell me about any information
of tournaments that are held
in Toronto.