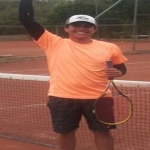 5
Julio-Alvarez
Hello everyone, I'm Julio,
I'm 23 years old and I'm from
Chile, I don't speak English
very well (I speak spanish)
but I really want to play
tennis, I love tennis. I'm
living in Boultbee ave. but
the subway station is very
close and I can go to the down
town or anywhere. I like play
behind of baseline line but
sometimes I go to the net, and
I have a great athletic
condition so I don't have
problems with long rallies or
long match.