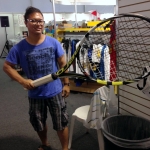 3.5
bennytoo
I started playing long time
ago but never got into it
until last year. Last year I
grew more passionate about
tennis and started playing
more often (maybe influence
from watching Rogers Cup
live) Playing for fun and
prefer to rally. However, I
can play some games once in a
while. Still need to work on
serving. Looking to play more
tennis and meet new players
who share the same passion. If
I have the time and energy, I
would play everyday. I live
in Mississauga and work in
Oakville 9-5. Willing to
travel around the area to
play. I usually play at the
North York Tennis Club on
Tue/Thurs around 8-11
depending on courts
availability.