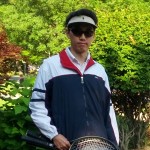 4
roonow
Intermediate player;
all-around game (but probably
more of a baseliner in
reality). Been playing as a
kid through high school, and
recently started playing again
in last couple of years. I
like both playing games/sets
or just rallying. Pretty
flexible schedule (weekdays
free after ~6-7pm; weekends
mostly free) and have a car so
location flexible too.