 2.5
Smiley
I am a female player. I'm
looking to play with men or
women of level 2.5 or higher.
I'm located in North
york. I'm flexible, I could
play rally or competitive. I
am available to play evenings
and weekends. I would like
play regularly this summer.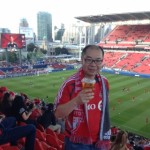 3.5
Goodhit
I have been playing tennis on
and off for over 10 years. I'm
in the intermediate level
between 3 and 4 and I'd like
to keep improving. I'd like to
find partners at any level who
can meet and have great hits
together regularly. I'm living
in North York, Sheppard@Leslie
and can play in any courts in
the neighborhood. I'm open for
rally, friendly game or
competitive games. I will be
available in evening hours
weekdays and weekends. See you
in the court.