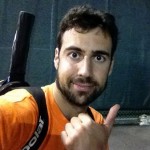 3
MightyDuck
Hi I'm a 3.0 player, serve
about 50-70% with good pace,
and working to improve all
areas of my game. North York,
Thornhill, Vaughan, Richmond
Hill, Toronto (@ Ramsden
Park). My phone is 6472057352
send me a text if you would
like a game, even last
minute. I'm also looking
for a practice and training
partner who is at a 3.0 or
higher with proper form, good
feeding skills and willing to
practice tennis drills.