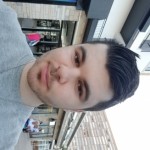 3.5
EatSleepTennis
Hi my name is Dan. I am
looking to play as much tennis
as I can for the rest of this
summer. I'm an intermediate
player (3-3.5) and usually
like to play best of 3 sets
but I'm also down to just
rally for an hour if time is
an issue. I am trying to
improve my game and have fun
in the process, if you have
similar goals let's get in
touch and get to the
courts! I can play anywhere
in Aurora, Oak Ridges and
generally north Richmond Hill.