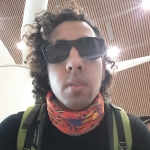 4.5
bett3r
Hi, I'm Rainer and I live in
Toronto. I'm flexible in terms
of rally or a game set. Solid
4.5 and 5 on some days. Mostly
played in Cedarvale Park,
Ramsden Park or Trinity
Bellwoods courts. Weekends
during public hours in private
clubs (Wychwood, Forest Hill,
Rosedale, Thornhill, etc).
Outside of tennis I'm a
photographer and feel free to
hang out for a beer or two!
Text me 437-887-7732 (receive
only).