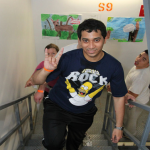 3
Mont_Alim
Hi! I'm Mont. I used to play
tennis competitively in high
school but stopped for a few
years. Looking to get back
into it to just play for fun
and meet new people. I can
keep the ball in play for long
rallies although my shots
could be more polished. I work
midtown and live in
Scarborough, so anywhere in
between and around I prefer
playing but am willing to
travel to other locations
(provided it is ttc
accessible) If you are looking
for friendly competition,
playing for fun, or just
starting the sport, give me a
shout! Beginner to advanced,
male or female, all are
welcome! 3
Midnightrider
Hello there ! I have been an
on-again off-again tennis
player for the last 20 years
! I am thinking now is
probably a great time to make
a long term commitment to the
game so that I can finally see
a marked improvement in my
game. I live in the east
end of the city and work close
to Mississauga Square 1 plaza.
If it's right after work, I
can meet pretty much anywhere
in between. My preferred time
to play is late in the evening
or pretty much anytime on
weekends (with some
notice). Look forward to
setting up some matches
through this
profile. Thanks.